Get started with Spoke
Welcome to Spoke! Soon you'll be having your internal requests resolved fast, getting your own time back and making everybody happier. Here's what to do next on Spoke to make it happen!
Add Teams
Teams in Spoke are how questions get sent to the right people and part of how Spoke learns to answer questions for you. Spoke has default teams for you to start with, but teams can be made for any type of common problem you need a solution for.




We have a handy guide on adding teams here.
Start building your KB
When you first open your KB (aka Knowledge Base) in Spoke, we have some common questions you can answer to begin building KB resources right away.




A good place to start with creating KB is to try and answer those questions you get over and over and over again, so Spoke can start fielding those questions for you.

Even more on creating KB right here.
Make your first request to Spoke
Spoke feeds on the thing that eats up your time: questions! Start asking Spoke the questions you get All. The. Time.




Just type your question into the bar on the top of the Spoke screen and Spoke will look for a good KB resource or you can officially start a new request. Spoke is now learning how to help everybody get answers and get your time back.

Want to know more about starting a request? We got you.
Teach Spoke the answers
Now that Spoke has questions, you can train it to get the right answer . Open a request that didn't have a KB resource already and start building one. This way you answer this question, and Spoke has it ready to respond to the same question when it gets asked again. A good KB is what powers Spoke to get stuff done.

Get the details on adding KB on the fly here.
Ask Spoke a question with email
You've got a team set up, you've got your first KB resources. Time to use Spoke over another channel! Ask Spoke the same question you just answered but this time, send it with email using the general Spoke email address on the lower left of your Spoke screen.




Spoke will respond via email in just a moment or two. Get the skinny on starting an email request in our Help Center.
Kick your Spoke into high gear
Now we're cooking with gas! Time to start adding Spoke to all the places your crew might want to ask questions. Set up your Spoke to work with SMS and if your team uses Slack, enable that connection to Spoke.

Once those channels are set up, make a request with SMS and Slack. Let Spoke look for the answers and let it know if the response is helpful or not. If not, build KB to answer those questions in Spoke.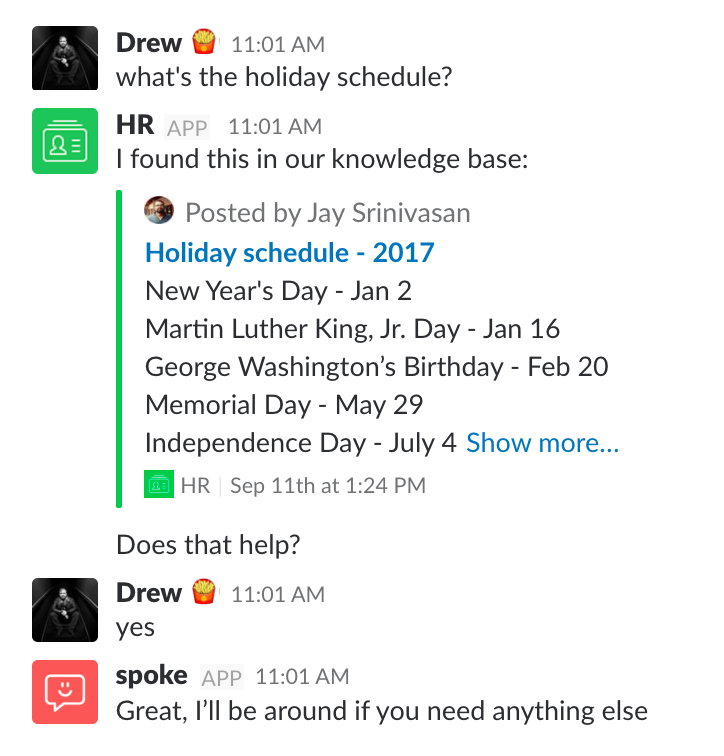 There's lots of helpful info in our Help Center to make you an expert on Teams and KB.
Teams Assemble!
We don't want you feeling lonely in Spoke, so it's time to begin adding to your teams. We'll start with a few people to get started.

First up, add some of what we call "early adopters." A good candidate is somebody who always has plenty of questions lined up because they'll be helping you get Spoke trained and to build more KB for all those questions. These early adopters are a helpful step in making your Spoke even better.

And you don't want to be the only one responding to all those questions, so add some teammates to help you respond to requests and create KB. You don't have to assign roles within Spoke to allow them to respond to requests, but you'll want to let them know they should be answering questions and assign them to the right teams you need them on.
And now - time to launch!
You've built teams, created KB and added some early adopters and you and your crew have been responding to requests and training Spoke how to get better at assisting everybody. Once Spoke is auto-resolving more and more requests without any action from you or the team, it's time to launch!
And now that you're ready to launch you'll need to tell everybody about Spoke. It's not always easy to convince people to start with a new tool, but we've got you covered with posters for the office and other ways to communicate Spoke.


Have more questions about Spoke?
Email us at support@askspoke.com or use our community forums to discuss Spoke with the Spoke crew and our users!